Welcoming speech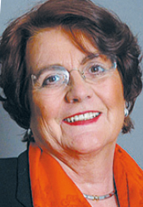 It seems like a lifelonge time ago and in fact over 40 years, since I first opened the Schwabinger Christmas Market. I can remeber the beginnings exactly: it was to be a market organised by the artists and craftsmen and women. Different all the others, suited to Schwabing a part of Munich, that has somehow remained an artists quater!
Not with typical christmas music, but with live bands and solists with artistic merit. A market with a wide variety of culinary delights with an original back drop.The fact of the matter is: the market has long become a yearly meeting point not to bemissed in the Schwabing calendar!
I know couples who met and fell in love here and now come with their children. I had our children with me that first year, nowadays it is my grandchildren and their friends. What began as an experimental market has now become an old tradition from the last century.
My heartfelt gratitude to all those who give us Schwabing inhabitants and all visitors such an experience year in, year out.
Yours, Edith von Welser-Ude